TUFTING 101 - YOUR GUIDE TO TUFTING
WHAT IS TUFTING?
Tufting is the process of passing a thread through a primary base material. Primarily used to make rugs, its uses are limited to your imagination. Other common uses include pillows, art pieces, and clothing. There are two finishing methods, cut and loop pile.
HOW DOES IT WORK?
Tufting machines work by using a mechanical needle to push the yarn through a tufting cloth. Once through, the machine either cuts the yarn or it leaves in a loop. The result is two different finishing styles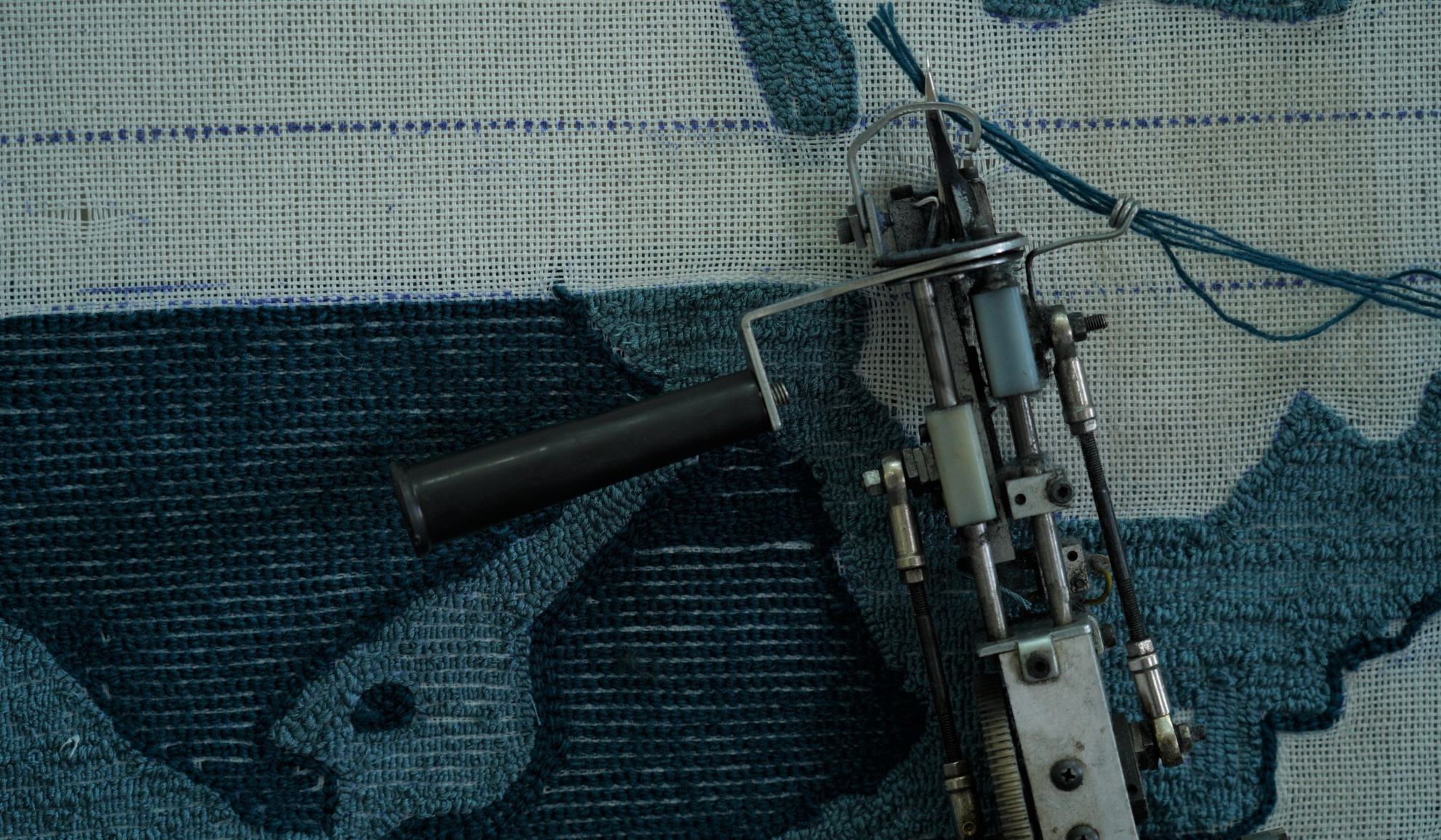 WHAT IS THE EASY TUFTER?
The easy tufter is a motorised tufting machine, it uses the above process to efficiently and easily create tufted pieces. The easy tufter comes in two models, the cut pile and the loop pile.
WHAT'S THE DIFFERENCE BETWEEN CUT PILE AND LOOP PILE?
CAN ONE MACHINE DO BOTH?
While both machines share a lot of similar parts, they are built differently and cannot be converted to be used as the other.
WHAT ELSE DO I NEED?
If you're purchasing a machine for the first time, you'll also need the following materials/tools to go with it:
Yarn

Primary Backing

Primary Glue

Secondary glue

Secondary backing

Tufting frame
YARN
Many different types of yarn can be used from acrylic, cotton, bamboo, or wool. While all of these work, when beginning we highly suggest using ATS Tufting Yarn, this is because our yarn is designed to be used with tufting machines. It is an industrial use worsted rug yarn, it flows smoothly through the needle head, avoiding yarn breaks and slippage. The majority of issues faced with tufting relate to improper yarn supply and feed.
PRIMARY BACKING
Primary backing is the cloth used to hold the yarn in place. ATS primary backing cloth is designed specifically designed for tufting. The low rip mesh and grid lines, provide the perfect starting point.
The gridlines provide use as they help alignment when stretching and transfer of designs.
PRIMARY TUFTING GLUE
The role of the Primary glue is to secure the yarn to the primary backing. It must be ensured that the correct glue is used otherwise you will find that once finished, the yarn threads will come out. 
SECONDARY GLUE
The secondary glue is used to attach the primary backing to the final layer backing. The best glue to use is a contact adhesive spray, available from most hardware stores.
SECONDARY BACKING
The purpose of the secondary backing is to provide the yarn security, while also reinforcing the rug and providing dimensional stability. A multitude of materials can be used (and purchased from a local fabric shop), as long as it is durable for its use.
TUFTING FRAME
Stay tuned - ATS Tufting frame kits coming soon :)